Background
In 2005 Bill Lupton approached us to produce a prototype attachment for an existing electric wheelchair, to start developing the new sport of powerchair football.
Our revised solution was the striker, a bolt on, all steel pusher attachment which fits 95% of day chairs due to its unique design. Our universal bracket clamps onto the chair and allows it to be adapted for a wide range of applications. This opened up the game to a lot of players and has proved to be a very popular product, sold to this day.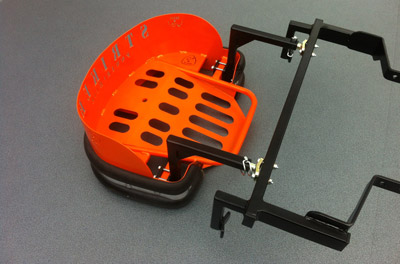 As time went on, and players became more competent, and required improved ball control, manoeuvrability and speed. Players felt restricted in day chairs and demanded a better chair to play in.
This was highlighted when in a World Cup fixture, the English team played America in the world cup who had the first generation of specific chairs devleoped for powerchair football. The maximum speed allowed in the sport is 10kph, and the English team were using chairs intended for day use which had poor acceleration and manoeuvrability compared to the competition.
After speaking with lots of players and liasing with carers and the WFA, DB Engineering felt that there were improvements in comfort and functionality that could be made over competitors products.
We set about offering chairs which are not only built in Yorkshire, UK, but can be offered at a more competitive price, opening up the game to increased numbers of players.
Our solution to the problem was the DB Bullet, a competitively priced chair with a focus on improved comfort and accessibility. Our powerchair is fully adjustable thanks to it's multi-positional seating system, which will grow with you. Other accessories can be easily retrofitted should the need arise. Our chassis design readily accepted specialist seating products where required, and we work with the customer to produce a bespoke solution. DB Engineering will endeavour to work with you to overcome any obstacles to anyone wishing to play Powerchair Football.
Construction
Our chairs are based on a custom chassis made from seamless tubing. Put together on a specifically designed jig, and tolerance checked. All our chairs are handmade by our team of time served engineers before being powdercoated in up to three colours of your choice. The finished chassis are then handed over to our techinicans, who, again by hand, assemble the bespoke chair tailored to you before full testing is carried out.
---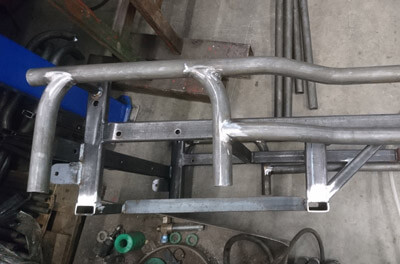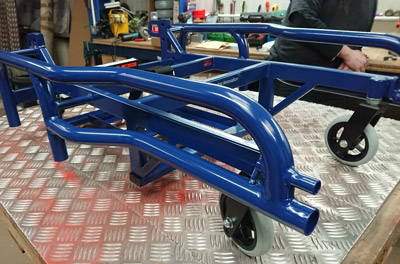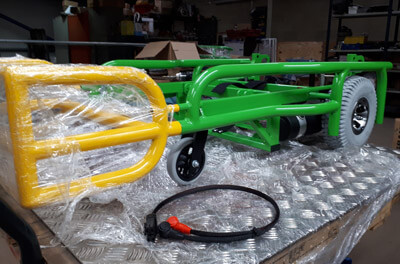 ---
Features
All our standard chairs come equipped with the following base features, which can be added to, in order to meet your needs.
Easily accessible for multiple users.
Speedy configuration for left or right handed control.
Bluetooth Programmability including multiple saved profiles for every user.
Designed to allow close proximity access for easy hoist access.
Comfort foam cushion
Fully adjustable arm rests across two axis.
Choice of head rests, fully adjustable across two axis.
Fully adjustable foot rests in a horizontal direction.
Manual tilt and recline seat positioning.
Lap belts
Choice of upto 3 powder coated colours per chair.
The crash tested version of our DB Bullet chair can also be used as a seat in a motor vehicle due to the addition of tie down points making it suitable for travel.
---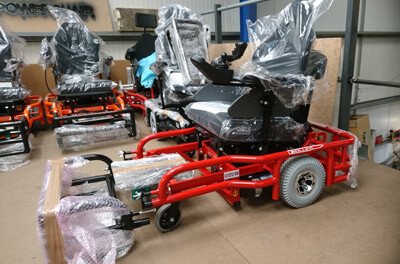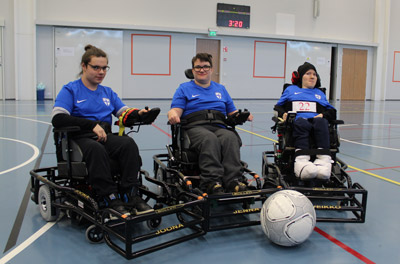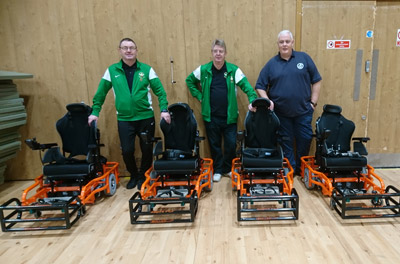 ---
Conversions to existing chairs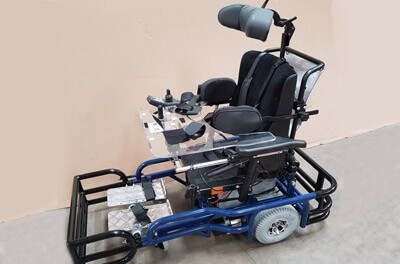 We also offer a conversion service for existing chairs, allowing you to use your chair's control gear and seating with our custom chassis. This has the advantage of allowing you to spread the cost and upgrade in stages, upgrading to our motors and control gear at a later date.
---
Customisations
DB Engineering work with our users to customise chairs to suit specific requirements. A good example of this was the recent request to produce a head controlled chair which can be seen in action on our news page. This chair makes use of proximity sensors to control the chair with a simple turn of the head, allowing the user to get more enjoyment out of playing the game and help him fulfill his potential as a player.
DB Engineering will endeavour to adapt our chairs to help overcome any issues which impact on player's ability to take part in the game.
Regularly requested additions:
Knee Aducters
Side Cushions
Pommels
Harness
Ankle restraints