---
Our new agent in Scotland
3rd June 2020
Exciting news, we are pleased to announce that Wheelchair Sports UK are now the official agent for the DB Bullet in Scotland. Please check out their website at http://wheelchairsportsuk.com

---
James Doull makes his International Debut
4th February 2020
We are delighted that James Doull made his international debut playing for Scotland at the weekend, using one of our chairs. He went on to score 5 goals in the tournament making him the top scorer, 1 goal in his first game, a hat trick in the second and 1 more in the last. We featured James in a training video last year and continue to be amazed by his skills.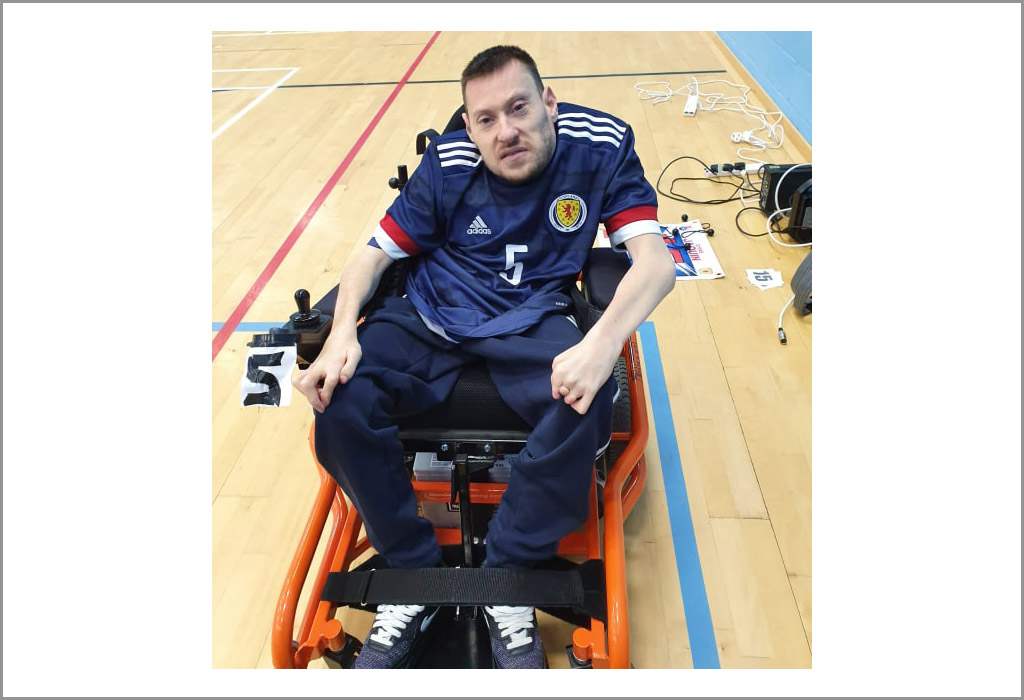 ---
CBBC Showcase Power Chair Football and Aspire FC
2nd December 2019
CBBC featured Power Chair Football as part of its weekend Match of the Day program. Great to see the presenter trying out one of our chairs, and being put to shame by the skills of the Aspire FC players.
---
Training footage
26th September 2019
We were pleased to receive this clip of Scottish player James Doull training with our demonstator DB Bullet powerchair. We're delighted to be currently building James his own standard model chair.
---
DB Bullet in action
27th August 2019
A short clip of Shay putting one of our DB Bullet chairs through its paces.
---
DB Bullet Tilt & Recline in Operation
21st August 2019
We took the opportunity today to record a short clip of our tilt and recline powerchair undergoing testing by one of our engineers.
---
Scottish Powerchair Football Association Awards 2019
1st July 2019
We have been fortunate enough to work with the Scottish Powerchair Football Association for many years and are big admirers of the fantastic work they do for the sport and its competitors. This year we were able to show a little of our appreciation by sponsoring the SPFA Breakthrough Player of the Year 2019 award.
The award winner is Scott McIntyre of Riverside PFC. The 'all new' Stirling side entered the MDUK Championship League this season for the first time. Scott's enthusiasm, understanding and respect for our sport was evident from the teams very first appearance. As the season progressed the team grew in confidence and Scott led by example showing all the attributes of a great Powerchair footballer.
Enthusiasm, optimism and a vibrant attitude makes Scott McIntyre a worthy winner of this year's Breakthrough award. Congratulations on your success Scott from all of us at the Scottish Powerchair Football Association and from the team at DB Engineering.
Ryan Galloway (SPFA Secretary) said "We at the SPFA are extremely grateful for the support we have received from the team at DB Engineering. Their passion for our sport and the work they have put in to developing a first class product is fantastic. We look forward to continuing to work with Dave and the team in the coming years."
---
Head Operated Powerchair
22nd May 2019
We were delighted to see one of our head operated wheelchairs feature in a recent news article on BBC News Scotland:
We designed a specific head controlled chair for Alexander which uses proximity sensors in conjunction with his head movements to control the chair.
Thanks to his new chair, Alexander can now participate fully in the game and competes in the Scottish PFA league.
Below is a video clip showing a demonstration of the chair by our senior test engineer:
---
The DB Bullet undergoes Crash Testing
17th April 2019
A poor test dummy underwent some fairly rigorous crash testing today aboard the latest iteration of the DB Bullet. On a serious note, these tests are absolutely vital and we're delighted to say that the chair passed and has achieved ISO standard 7176-19:2008. A copy of the test report can be viewed on our technical resources page. Here is the footage of the test.
If you have any questions about our products, or you'd just like to find out more about the DB Bullet.
Get in touch